Top Ten Authors Who Deserve More Recognition
1)
Melissa West
author of Gravity.
She is a debut author back in 2012 and I can`t wait to read more of her books. Gravity was a new one for me because of the alien inclusion.
2)
Noami Novik
author of the Tameraire Series.
The only reason I love fantasy is because of this woman. My dad was shopping while I was home sick and he picked me up the first book. I devoured it and the other books in the series. Right now I have a bookmark in Tongues of Serpents back home.
3)
Angie Sage
author of Septimus Heape
I have not read the last two books in this series only because I cannot do MG right now. Angie is who got me and my friends to start book swapping and book talking.
4)
Melinda Morgan author of Etude
I must have Melinda on this list because she was the first author to send me an ARC, To ever post a comment on my blog and to email me privately about her Birthright Legacy.
5)
Rachel Harris author or My Super Sweet Sixteenth Century
I am a Flirt Squad member. Although I am only 3 chapters into MSSSC I have read her adult book Taste of Heat. the review should have been up last week but Blogger decides if and when it wants to work. I love the connection Rachel has with us bloggers.
1)
Jackson Pearce
author of Where the Light Is.
I was asked by Ashley to pick a story to read to her too help her fall asleep and I enjoyed it so much I didn't realize she fell asleep and finished it in one sitting. It was a nice coming of age story about a young miner and his special cave friend.

2)
Leah Rae Miller
author of Summer I Became a Nerd.
This was a recommended read based on the fact that I love role playing and this novel doesn't disappoint. Every nerd at heart will connect and love this book.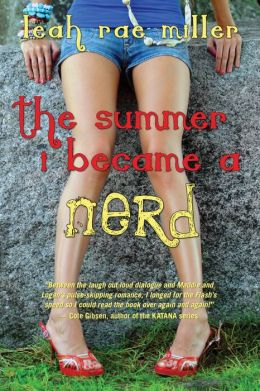 3)
Jon Flanagan
author of Ranger`s Apprentice
The rangers apprentice series is a quick middle grade series I picked up as an inbetween read and it had a decent story line and held my attention pretty well. I hope John Flanagan tries his hand at writing a more adult fantasy novel.
4)
Cornelia Funke
author of Thief Lord
The thief lord was the first novel I picked up by Cornelia Funke and I loved her writing so much that I had to read her Inkheart series as well. Amazing character and plot development. Can never go wrong with one of her books.
5)
Khaled Hosseini
author of The Kite Runner
This novel was one of the choices I had to choose for my AP English class in high school and this is a gripping drama about a boy and his family in modern day Afghanistan.