Across the Universe Trilogy: A Million Suns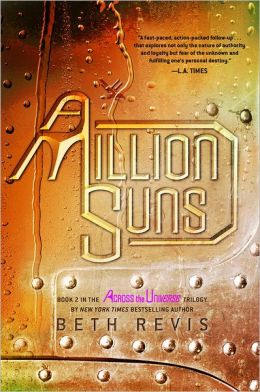 Synopsis:
It's been three months since Amy was unplugged. The life she always knew is over. Everywhere she looks, she sees the walls of the spaceship Godspeed.

But there may be hope: Elder has assumed leadership of the ship. He's finally free to act on his vision—no more Phydus, no more lies.

But when Elder learns shocking news about the ship, he and Amy race to discover the truth behind life on Godspeed. They must work together to unlock a mystery that was set in motion hundreds of years earlier. Their success—or failure—will determine the fate of the 2,298 passengers aboard Godspeed. But with each step, the journey becomes more perilous, the ship more chaotic, and the love between them more impossible to fight.
Review:
I laughed, I cried, and I rejoiced. Thank goodness I have Shades of Earth to pick up. Orion even though frozen is a key player along side Amy and Elder. Godspeed is home to all the passengers Amy is the one who has to make the decision on whether or not the new planet is safe. She is ready to abandon all the walls and show Elder how to really live.
My boyfriend and I took less than 2 months to finish A Million Suns. Already started book 3-Shades of Earth- and cannot wait to see what happens to our favorite characters Amy is such a relatable character for me. She has lived both lives-on Sol-Earth and Godspeed-the fate of the whole crumbling ship is on her hands. I would never be able to live up to such a massive weight on my shoulders but, she handles every situation as smoothly as possible.
Beth Revis has a fantastic writing style to the point I bought both anthologies that have short stories she wrote. I would never have bought them had it not been for her descriptive, relatable writing.
Overall 5/5